Bobcat is a 10" Android wall panel with fully customizable frame. Match Bobcat frame color with your wall color and interior equipment. The result is a modern, astonishing looking home. Install your own Android apps and control your smart home in style.
Specifications
Frame size:
305 mm x 196 mm x 2mm (WxHxD)
Flush mounted box size:
290 mm x 180 mm x 50 mm (WxHxD)
Frame color:
ANY, just tell us your RAL code (by default the color is white)
Touch panel:
ASUS ZenPad 10 Z301M
Display: 10,1" 1280x800
CPU: MTK MT8163B Quad-Core, 1.3 GHz, 64bit
OS:
Android 7.0
Power:
100-240V 50/60 Hz
Power consumption:
approx. 10W
Product #
CC-B-1
Wiring diagram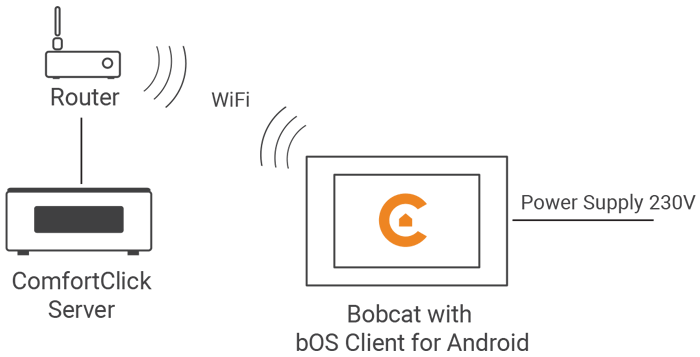 What's in the box?
Frame (white is the default color)
Flush mounted box
Touch panel
In order to use it with ComfortClick bOS you'll need to get a bOS License or one of our Controllers