Project name: Euphoria Resort
Project location: Kolymvari Chania, Crete, Greece
Number of rooms: 287
Room size: 30-60 m²
ComfortClick Products: Sledgehammer
Technology Used
KNX control and KNX visualization for lighting, sockets, and shades control. 28KNX devices per room (more than 8000 KNX devices overall)
Modbus for AC temperature control
Integration of third-party BMS
Project Description
In 2017, Euphoria Resort, located on the Greek island Crete, contracted Vlassakis Advanced Solution to implement a KNX based hotel building automation system. A customizable user interface for the guests and an efficient hotel management system for the reception, concierge's office, kitchen, swimming pool and other areas of the resort were required. Vlassakis Advanced Solution chose ComfortClick for the hotel visualization and automation and the Sledgehammer Controller was selected as a central controlling unit. Sledgehammer is powerful enough to handle a project of this size and has the software capability to integrate all the required systems.
Project Objectives
Highest level of comfort for the guests
Reduction in operating and maintenance costs
Ease of use
Customizability
The main goal was to use KNX and Modbus devices for real-time building administration, optimize resort services, and offer an enjoyable and modern experience for the guests. Even though it was categorized as a large KNX project, including a total of 287 rooms plus managerial room and resort amenities spaces, it took less than two weeks for the system integrator to finalize its configuration. Energy efficiency was also an important goal. Each apartment energy consumption is monitored separately and in case of increased consumption automatic notifications are sent out to the managerial team. Since apartments are offered as holiday rentals, it was important that apartment automation minimized energy consumption when the apartments are empty. Even if the guests just leave for the day and come back in the evening all non-essential electrical appliances and lights are automatically turned off and the cooling is reduced.
System Overview
The system is divided into two sections: administration view where an overview and control of the rooms are available for hotel management supervision and individual room view where room status is available for the guests to see.
Administration View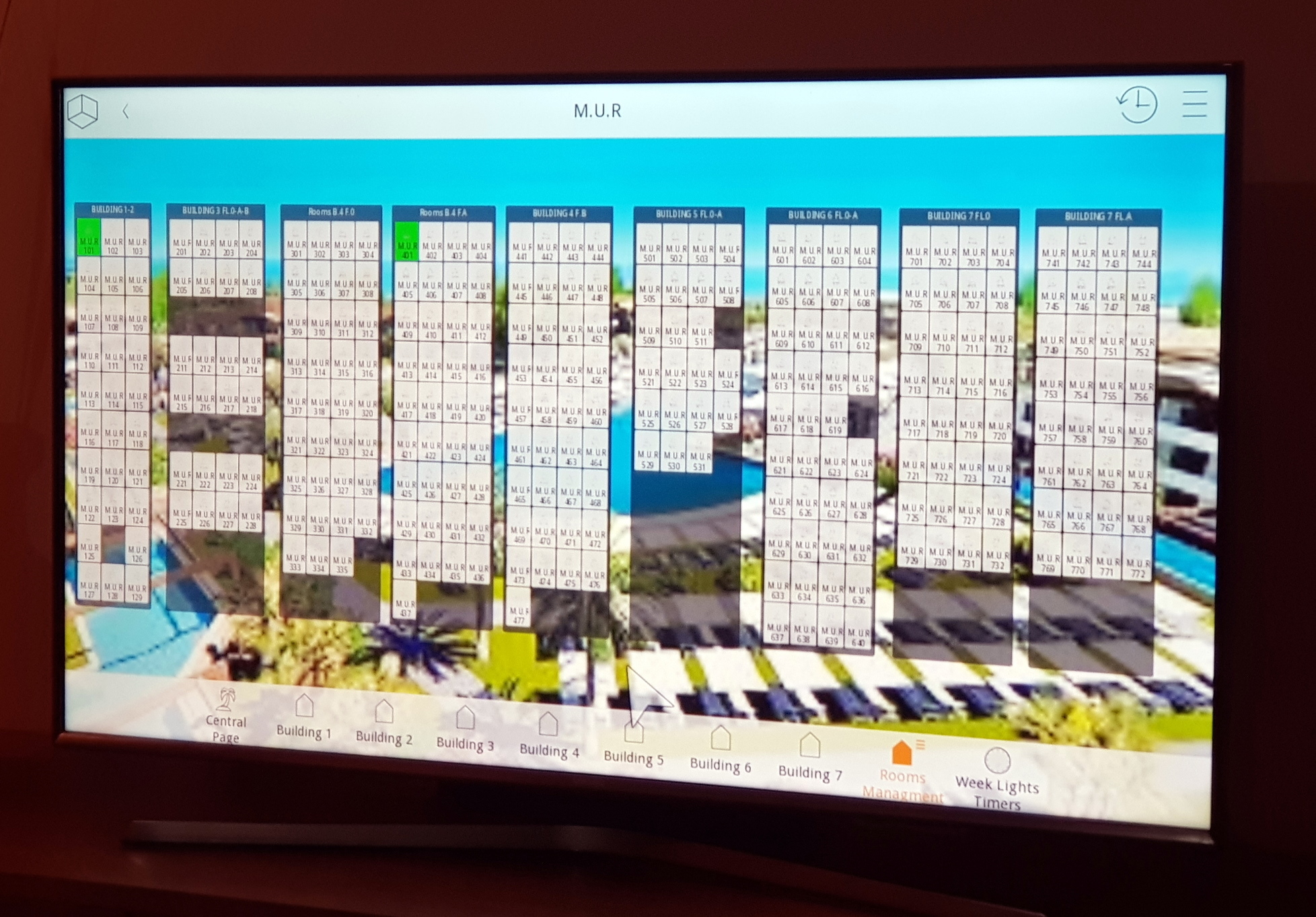 From the administration user profile the management team can easily see information regarding:
• Room occupancy • Room light status • Sockets that are being used • Cleaning room requests • Room temperature
Guest view
Most of the room's visualization is intended for overview by the resort administration team and this is what makes this project unique: the fully customized GUI and bOS' ability to handle complex scenes and tasks. The customization includes: • customized GUI navigation, • specific background pictures for each room, • photo of the actual resort as managerial background, • room vacancy status • room cleaning requests alerts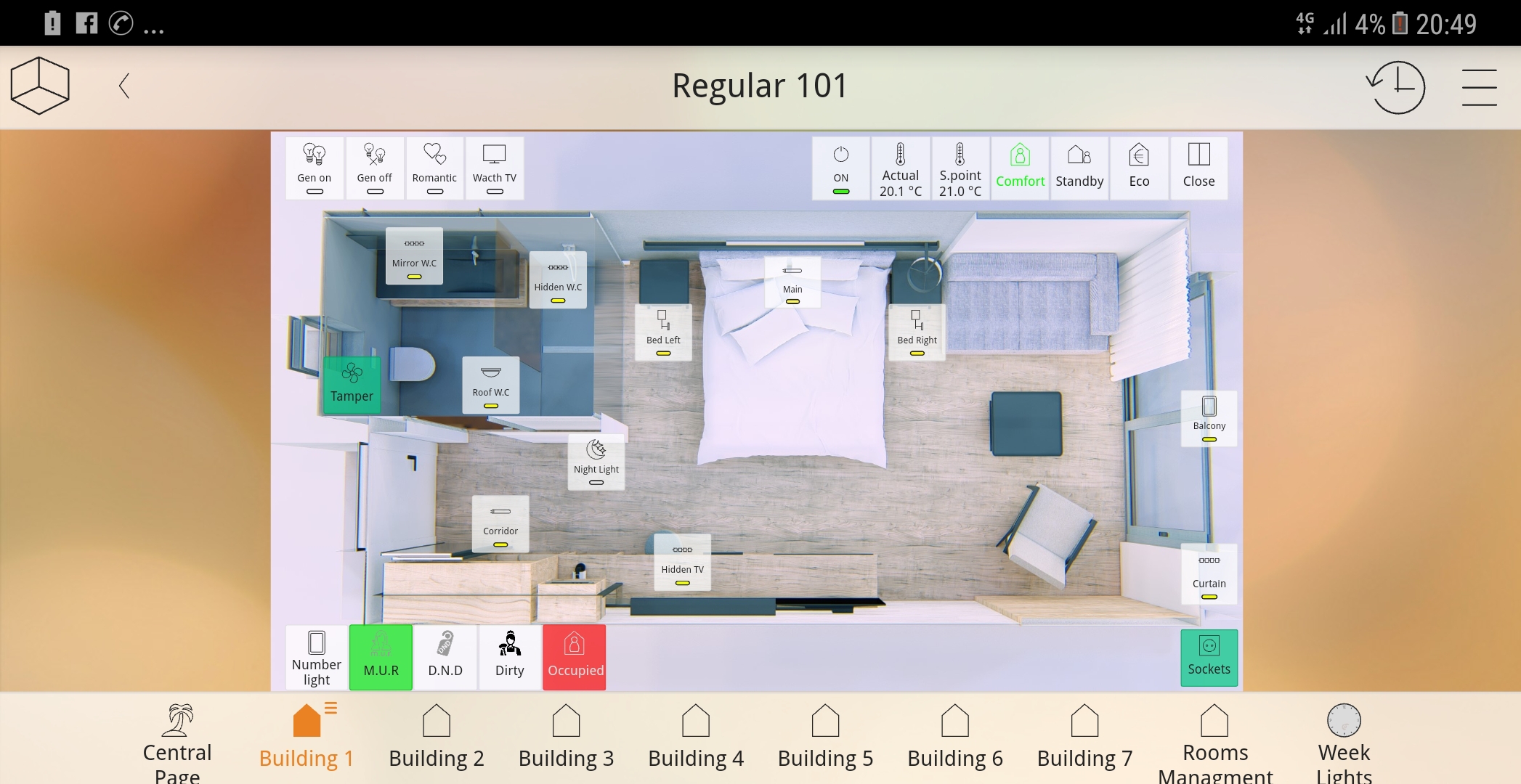 Support for New Technologies and Future Updates
Another project request was to make it future-proof, which was also achieved with ComfortClick's Sledgehammer. In addition to KNX and Modbus Sledgehammer supports also: Z-Wave, Amazon Alexa, Google Assistant, Sonos, Global Caché, Philips Hue Lights, IP Cameras, IP Intercoms, IKEA TRÅDFRI, Samsung and LG TVs, IRTrans, SMA, Kodi, TCP/IP, DSC, Satel and Paradox alarms.
This project has shown that a lot can be accomplished if a clear vision is aligned with an efficient building automation platform.
Full Equipment List
KNX for lighting, sockets status, shades control
ABB RM/S4.1
ABB IO/S 8.6.1.1
ABB FSA/S1.2.1.2
ABB 6108/18-500
3 Area KNX, 35 Lines
35 KNX routers
35 KNX power supplies
Modbus for AC temperature control
BMS, modular measuring instruments