Samsung smart TV
NOTE: bOS supports only Samsung smart TV models before 2016! Because Samsung does not publish any documentation about the TV's UPnP interface, we can not add support to newer models. We are following Samsung closely and we'll add support for new TV models as soon as it will be possible.
Connection between bOS and Samsung TV is done using the Discovery function. bOS server will search the local network and try to locate the TV's IP and connect to it.
NOTE: Make sure the TV is in the same network as the bOS server so the discovery function will find the TV and make the connection.
Select the correct TV from the list and click Select. IP and MAC address of the TV will be automatically filled in.
If the MAC is not added in automatically, it is recommended to use IP scanner software and scan your local network, locate the TV and copy the MAC address from the app into bOS.
When the Samsung TV device is added into bos, Panel Functions and Numbers nodes will automatically be added under the main node, each adding additional functionalities for the TV.
NOTE: It is advised to use TCP connection type for the connection between Samsung TV and bOS and currently only Samsung devices made pre 2016 are supported and working with bOS.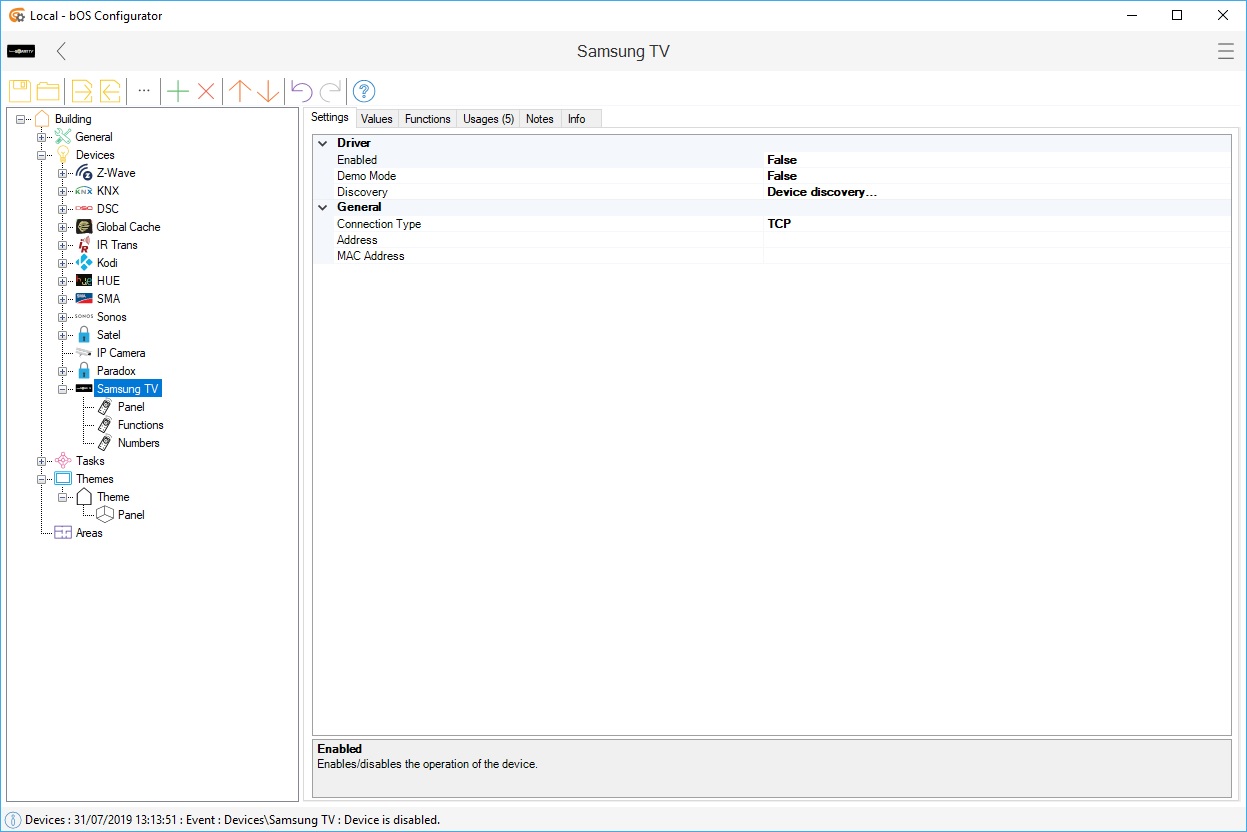 Picture 1: Samsung panel
Panel node: Panel node is a simple panel link already pre-built into Samsung TV driver, this allows a fast panel link to your main Samsung functions node in your visualisation.
Functions node: Consists of basic TV functionalities such as, turning power off, changing video source, change the volume, channel, etc.
Numbers node: Consists of channel numbers and channel colours. Using these buttons users can control their TV like a remote control to switch between the channels using the numbers and colours.
Picture 2: Samsung functions panel