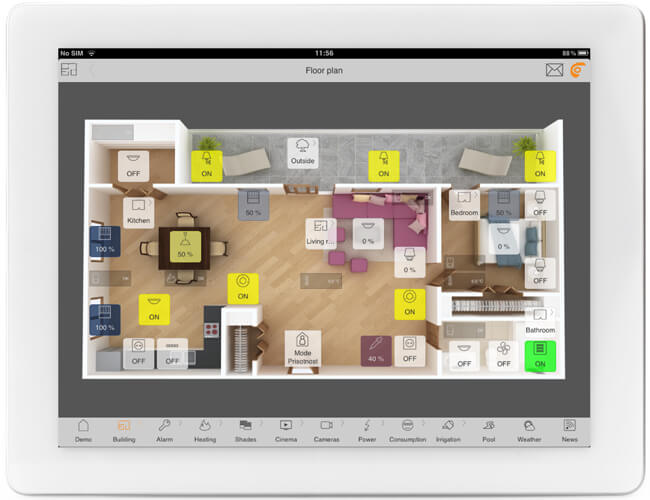 Building
Main node of configuration.
bOS configuration is stored in form of a configuration tree which contains tree nodes representing different configuration objects. The main node of every configuration is the Building node.
Picture 1: Configuration tree
Building node contains the following subnodes:
General: Contains building's general data and settings such as user accounts, time, templates, files...
Devices: Contains devices and input/output data.
Tasks: Contains logical functions.
Themes: Contains visualization themes.
Areas: Contains areas for multiple area buildings (hotels, apartement buildings). Areas are used for easier project management and duplication of similar project parts.
Building node panel
Building node panel displays additional informations:
License: License tab is displaying the information about current server license. License can be requested by clicking the Register button in the toolbar. The web browser is opened and the login page for www.comfortclick.com is displayed. User must login to his ComfortClick web page user account. Refresh button is used to refresh displayed license status.
Picture 2: License tab
Updates: Updates tab contains information about system updates. Available updates can be installed by clicking on the Install button. The refresh button checks for available updates.
Picture 3: Updates tab
Network: Network tab enables changing of network settings on the server machine. The server machine should use static IP setting to avoid problems with connecting to the server from client machines. Under this node your controller can be restarted or shutdown using the Reboot or Shutdown button.
Picture 4: Network tab
This website uses cookies
We use cookies to personalise content, use live chat, provide social media features and to analyse our traffic. We also share information about your use of our site with analytics partners who may combine it with other information that you've provided to them or that they've collected from your use of their services.