ISE 2019 Show Report: Servers and Wall Panels
New for the ComfortClick bOS visualisation, control and automation system is support for BACnet and Google Assistant. These join KNX, Z-Wave, ModBus, Amazon Alexa, Sonos, Philips Hue and many others, as supported protocols. Elsewhere on the stand was the ComfortClick JIGSAW KNX controller, which also includes a bOS licence, and is designed for apartments and small-to-average residences, and the Dozer Android wall panel with customisable frame. The company was also keen to demonstrate the community aspect of its website, where professionals are encouraged to publish their own experiences of integrating with various protocols and applications.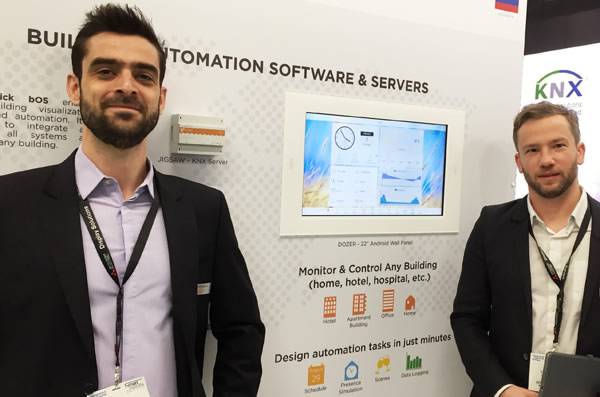 ComfortClick's Flavio Sanches and Luka Persic demonstrating the ComfortClick bOS on the Dozer wall panel.
http://knxtoday.com/2019/02/13077/ise-2019-show-report-part-1-av-servers-and-gateways.html